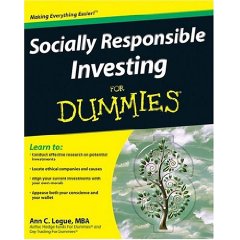 It's a sad event in the life of an author, and one that happens to just about all of them at one point or another. Socially Responsible Investing for Dummies is now out of print.
I'm still interested in the topic, though. I'll still write about it. And all of you wonderful people who own a copy now have a collector's item.
Some books are permanent and ageless. Others have a shelf life: the topic is interesting, for a while, and then it's not. The information goes out of date (something that happens all the time in the world of finance). People figure out what they need and don't need another book on the material.
This one has had a good run. What's next?
We'll see. I've been working on a manuscript that, it is hoped, will be published in September.
Thanks, everyone, for the support!