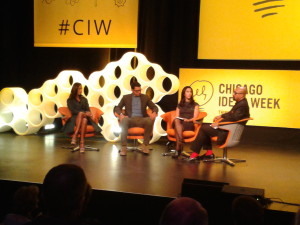 In October, I attended a panel presentation on the Middle East after the Arab Spring at Chicago Ideas Week. You can see a video of the discussion; I had some thoughts on it from an investment perspective.
It was a strong group of speakers: Bobby Ghosh of Time International, Eric Davis of Rutgers University, Rula Jebreal of MSNBC, Ayman Mohyeldin of NBC News, Lara Setrakian of News Deeply, and Ronny Edry of Peace Factory.
Here's what I learned:
The region is critical to the United States because of hydrocarbons, obviously, but the human capital is important, too.
The people are more concerned about jobs, unemployment, and security than religion.
It will take decades to know if the Arab Spring succeeded or failed; success and failure is a false dichotomy anyway. It took the United States seven years to write a constitution after the revolution ended.
The people of the Middle East are shaping their future without U.S. input.
In other words, there is no clarity. That makes the investment risk huge, but the payoff could be huge, too.
When I was researching Emerging Markets for Dummies, a few investors told me that they look at what the expatriates are doing. Are Americans from the Middle East investing back home? Or are they trying to get assets out? That's an interesting way to look for the Next Big Thing. My impression is that more people are trying to get money out than get it in.