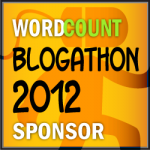 Although the Blogathon is over, I realized that I missed one of the post challenges: to write about what I would do differently if I started blogging today.
But here's the thing: I am a really reluctant blogger to begin with. Way back in 2006, I did a presentation on why I loved blogs but was not a blogger. What I said then still stands, although, of course, I have this blog now. I put it off until it seemed inevitable, until I was tired of explaining to my publisher why I didn't have a blog and why I didn't think I needed one.
So here I am, having posted daily for some 34 days, and I'm still an ambivalent blogger. In other words, I wouldn't change a thing.