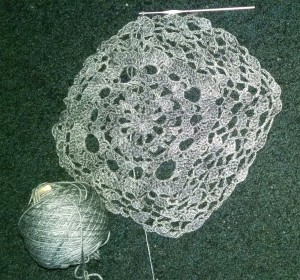 One of my big challenges in teaching is to get students to think about equations as a way of communicating, as the grammar of finance, rather than as facts to be memorized.
I learned how to crochet as a child, a thing I did with some friends to kill time in the summer. I've taken it up again as an adult because I found that it is one of the few things I can do as a passenger on a long car ride that won't trigger motion sickness. Mostly, I make simple scarves for my church's food pantry to distributed every winter – nothing fancy.
But, the more I do it, the more interested I am in trying something a bit more complicated.
I found out about a crochet-a-long project in conjunction with Downton Abbey that seemed like fun. The pattern designer sends out part of the instructions for a shawl every Sunday morning through Ravelry, a popular site for people who do needlework. The idea is that we will work on it while watching the show, with discussion on Ravelry to help people through any problems they may have.
The first week's instructions were seriously problematic. They were not written in the usual convention of crochet patterns, and most of the discussion was about different attempts to translate them. Finally, the designer issued revised instructions, and the project is turning out to be lovely. She was trying to communicate the idea of the shawl and needed the language to do it. Once that was in place, it all came together.
The situation got me thinking about formal languages.
Continue reading "Equations are the grammar of finance"