By Ann Logue on May 13, 2013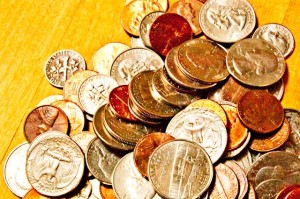 The price of gold is falling. Everyone seems surprised. John Paulson is selling his fancy house in Aspen. I don't get it. Or maybe I do.
I've been on record for a long time saying that gold was overvalued. And for a long time, the price kept going up. Was I wrong? Am I right? The answer to both questions is, sort of but not really, which sounds like a weasely answer but isn't.
Continue reading "Gold and market efficiency"
Posted in Day Trading, Financial Advice | Tagged bubbles, crashes, gold, market efficiency, short selling | Leave a response
By Ann Logue on May 11, 2013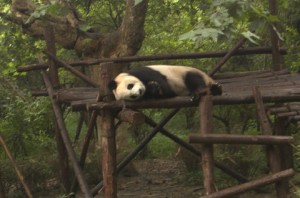 I often quote Po's line from the movie "Kung Fu Panda": There is no secret ingredient.
Every time there's a major market crash, there's someone out there who called it coming and ended up making a fortune. And inevitably, that person never duplicates the feat. In the 1987 crash, it was Elaine Gazarelli. She called the crash correctly, and for a while, she was hot. Then she wasn't. Now it's John Paulson. He made money on the mortgage collapse in 2008. He was hot. Now he isn't. So we can read lots of news reports about him having losses in gold and outflows of capital and putting his super-fancy Aspen house on the market, like it's a surprise.
It's not.
This is exactly what we should expect in an efficient market, with we (mostly) have: the wins and losses average out over time. The people who win big are (mostly) lucky.
Students always ask me about Warren Buffett, and I always say the same thing: if it were easy to replicate his success, we wouldn't know his name. And, part of his success is his ability to negotiate favorable terms for deals, such as his investment in Goldman Sachs during the 2008 crash. Who else was in a position to sign over that much money at that time? Not me, not any commercial bank, and not any investment bank. Because Buffett could, do you think he was able to cut a good deal?
Heck yeah.
It's hard enough to match the market, especially when fees are figured in. Beating the market requires luck, clairvoyance, and skill. But if you could really beat the market all the time, would you be getting up and going to work every day? Heck n, not when there are so many lovely beaches in Maui.
Posted in Hedge Funds | Tagged Elaine Gazarelli, hedge funds, John Paulson, market efficiency, performance, Warren Buffett | 1 Response
By Ann Logue on May 6, 2013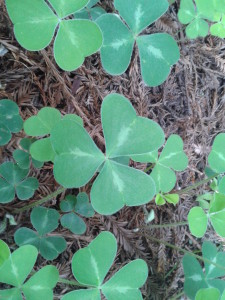 Last week, Thomas Friedman wrote a breathy column for the New York Times about how it's a 401(k) world. The idea being that just as we have responsibility for our own retirement funds – which is good for some people – we have responsibility for more of our careers – which is also good for some people.
Felix Salmon responded with a piece pointing out the problems with 401(k) plans as a retirement vehicle, and there are many. They generate a lot of money for investment companies, don't provide an adequate retirement income for most people, and are overall a more expensive way to cover a group of people than a pension plan.
I've often said that everyone should get an MBA because we are all being asked to manage more of our lives than every before. Is that good? Is that bad? I don't know.
I do know this: investing isn't as hard as people think, but it isn't easy, either, in large part because we have to fight all sorts of psychological biases. It's never easy to do what seems unnatural, and buying low and selling high are unnatural. (Doesn't it seem more fun to buy things that are going up and sell things that are going down?)
401(k) and other portable retirement plans are great for some people – people who change jobs a lot, take time out of the workforce for family or personal reasons, or those who are savvy investors. Under old-timey pension plans, you often had to work at the same place at least 15 years to receive benefits.
But here's another key consideration: the 401(k) was never meant to replace traditional pension plans. It was meant to be a supplement and a tax shelter for people with high incomes. I have a SEP-IRA as a self-employed person, and I can put away as much as $51,000 per year. That's a lot of money.
The bottom line is that you have to know the limitations and work with them. Having a 401(k) account is not enough. You need to contribute to it – as much as you can afford – and you need to invest it reasonably well. And, you need to keep the money in there. A loan against your plan is a nifty idea if it is merely a supplement to a corporate pension. It's a terrible idea if this is your primary source of retirement income.
There aren't enough four-leaf clovers out there for all of us.
Posted in Financial Advice, Political Discourse, Teaching Finance | Tagged 401(k) plans, pension reform, saving for retirement | Leave a response
By Ann Logue on April 27, 2013
Money Smart Week has come to an end. The goal is great: to get people handling their money more responsibly. After all, money represents hours of work, and you should use your time for things you want and need.
The key to financial security is to live on less money than you make, then get a return on savings that beats inflation. That's it. That's the secret, and it's not all that fancy, is it?
And that's the message for today. Get into the habit of saving, even it if's a small amount. If all you is out $5 or $10 a week into an envelope and then use that in December so that you don't buy presents on credit cards, you're ahead of the game. If you put just one percent of your paycheck into your employer's retirement plan, you're making progress. If you pay even a buck or two more than the minimum on your credit card, you're getting closer to financial freedom.
Yes, it's easier if you make a lot of money, and it is easier if you have a lot of extra money – enough to pay cash for holidays and vacations, to put 15 percent to 20 percent away for retirement, and to have no credit card debt whatsoever. But the little bits add up, and they help you gain ground over time.
Think of it this way: even if you lost money in the market crash of 2008, you would be better off than someone who never saved anything because you would have money set aside.
Life is long, and you need to save for it. Life is short, so you need to have fun while you're saving money.
(This is cross-posted on Chicago on the Cheap.)
Posted in Chicago on the Cheap, Financial Advice | Tagged budget, financial advice, Money Smart Week, Saving Money | Leave a response
By Ann Logue on April 26, 2013
This semester, I'm teaching a class at UIC on business, finance, and American culture. It's a lot of fun to teach, and (I think) the students get a lot out of it. The class has started making their final presentations, and the first batch was really good.
Three of the books assigned are The Jungle, by Upton Sinclair; 'Tis: A Memoir
, by Frank McCourt; and The Man in the Gray Flannel Suit
, by Sloan Wilson. All three stories are about people struggling to get to the good life, but they are very different. Jurgis Rudkus comes to Chicago from Lithuania and sees his dreams crushed. Frank McCourt is born in New York, raised in Ireland, and returns to a land that he only vaguely remembers (but where he knows he won't be hungry). Tom Rath, from an old East Coast family, serves his country in World War II and sees horrible violence, then wonders if financial and career success is worth the cost to his family.
They are different people, with different stories, at different times in American history. They are all trying to figure out the good life. The solution for Rudkus is socialism. For McCourt, it's a college education through the G.I. Bill. For Rath, it's scaling back his work.
And, of course, we're all trying to figure it out for ourselves (although, fortunately, no one in the U.S. now experiences the working conditions of the Chicago packinghouses at the turn of the last century.) That often includes investments in education and finding ways to spend less. There's a rich history to what we're all trying to do here.
(This is cross-posted on Chicago on the Cheap.)
Posted in Chicago, Chicago on the Cheap, Political Discourse | Tagged books, careers, Chicago on the Cheap, college, Man in the Gray Flannel Suit, Money Smart Week, savings, The Jungle, Tis | Leave a response
By Ann Logue on April 25, 2013
I know about finance from several perspectives. I have a traditional academic background and teach traditional corporate finance (efficient markets, rational actors, time value of money). I worked for an investment company and two investment bank, so I have a real-world perspective (people are irrational, bubbles and crises are more common that you might think.) And, I'm self-employed, so I live with the ongoing tension between generating income and generating cash flow.
The academic finance, professional finance, and small business – family management groups are all speaking different languages.
For example, my family's plan is to pay off the mortgage before our kid starts college, then dedicate that monthly amount toward his tuition bills. The interest rate on the mortgage is practically nil, and the financial logic would say to keep that debt as long as possible. Furthermore, money is fungible – interchangeable – so allocating funds like that is irrational. Emily Oster, at economist at the University of Chicago, made this point in a recent critique about the envelope system. In behavioral finance, the term is mental accounting, and it's a way that people behave irrationally.
It has never struck me as irrational, though, because to me, cash flow is key. It is in many families, too, especially given how much risk there is to earned income. Many people will find themselves unemployed at some point in their careers, which makes them do things that don't seem logical. If you want to make sure you have the money for a particular need, you may want to set it aside in an account. Money that shows up after that is allocated would go into a different account. Unless you know that the cash will arrive when you need it (a key assumption in academic and professional finance, but less likely for small businesses and families), keeping accounts makes sense.
I'm sticking with my envelope-based budget until I get a better explanation of why it is illogical. If you have thoughts, I'd love to hear them!
(This is cross-posted on Chicago on the Cheap.)
Posted in Chicago on the Cheap, Financial Advice, Teaching Finance | Tagged budgets, cash flow, Chicago on the Cheap, finance, mental accounting, Money Smart Week | 1 Response
By Ann Logue on April 24, 2013
Recently, a hole wore in the sole of one of my favorite pair of shoes. The shoes weren't terribly expensive, and I almost threw them out. But then it occurred to me: the shoes were comfortable and they filled a need in my wardrobe (which is why they wore out). Even if a new pair wouldn't ruin my budget, did I really need new shoes? I took them to a shoe repair shop in my neighborhood, and they were able to repair and reinforce the soles and clean the shoes for $28.
Yeah, I could have gotten similar shoes for about the same price. But this way, I have shoes I know I like, in my closet rather than in a landfill.
It's easy to throw things out, but there is a lot of value in repair. Most of the $28 cost went to a local business person; it wasn't divided among a host of low-paid salespeople and offshore assembly workers. That adds more to GDP than the purchase of imported shoes.
I have a few high-end designer jackets from my investment banking days, and I've had the linings replaced. That runs about $75 at the local dry-cleaners. But you know what? The fit and quality of the jackets is worth more than that. A repaired Armani blazer is worth more to me than a new one from Kohl's.
The next time you are close to throwing something out, take a minute to consider if a repair will cost the same or less than a new item and give you the same or more function. If it does, get it fixed!
(This is cross-posted on Chicago on the Cheap.)
Posted in Chicago on the Cheap, Financial Advice | Tagged Chicago on the Cheap, fixing things, making repairs, Money Smart Week, Saving Money | Leave a response