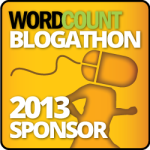 Given that this month is the WordCount Blogathon, it was appropriate that a friend asked me to talk to her high-school class about writing non-fiction and blogging. She teaches at Lake View High School, which is where the movie My Bodyguard

was set. The students were great. They had a lot of questions and ideas, and it was a fun session.
Here are the notes from the talk, in note form:
My blogs, to introduce the idea:
Popular free blogging software – WordPress is common, but hardly the only choice
Getting started

Develop a theme: it is easier to blog if you have a specific idea, even though that seems counter-intuitive. It could be how you are going to pass chemistry, research on an occupation or hobby, or maybe the history of your neighborhood.
Remember that it's public. A blog is not a journal or a diary, and it is not the place to rant about a skanky relative.
Rights and responsibilities as a publisher

Working your blog

Blogging challenges: Like the WordCount Blogathon, Women's Money Week, or Money Smart Week. These force you to post regular content, but they also give you lots of ideas for posts. You can form your own with some friends.
Technorati is a standard directory of blogs.
Social media. Promote your blog!
Blog networks: Often, groups of blogs on a similar topic agree to promote each other.
Guest posting: You can post on a friend's blog, and vice-versa, to increase your readers.
What else should I have told them?