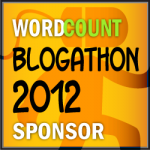 Well, I'm a little more than halfway into the 2012 Blogathon, and so far, I've kept it up. I'm in the game, baby!
Here's what I've learned:
This isn't quite as hard as  I thought it would be. The hardest part is finding pictures to put into posts.
I'm not fond of the SEO stuff, either. Coming up with keywords gets tedious
I've had to create more categories.
There are more things to write about than time to write them up!
I write fast, so I make a lot of mistakes. At work, I have editors who go through my articles and make them better (and I have worked with many wonderful editors over the years.) Here, I just keep going back into WordPress and making edits.
It's nice to have an outlet for some of my rants.
But I still don't know if I am adding any value to the millions of blogs already out there!
Two weeks to go. Let's see if I can keep it up!